De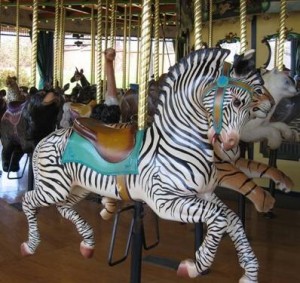 lightedly giggling, she whirled and twirled around and around the merry-go-round. She loved the up-and-down of it and the round-and-round of it. She laughed herself silly until she noticed the other little girl, four horses back and behind her, who was crying and holding on for dear life to the swirly, golden pole with her eyes tightly closed shut. She got off her gorgeous turquoise unicorn with the striped silver and gold horn, and wended her way back through the sea of horses to the little girl who sat on a zebra with a bright red saddle and long yellow tail, and said, "Pretty zebra you're riding."
The little girl on the zebra unsqueezed her eyes and peeked out of her blurred, tear-filled eyes.
"I just want to get off," she cried.
The unicorn girl just stood quietly next to her, then softly touched her shoe as she looked up into her eyes and said, "Don't worry, it will stop soon." The little girl on the zebra sighed with relief but held on all the tighter.
Before she knew it, the carousel did stop. The grand calliope music stopped, too. The horses stopped going up and down, the merry-go-round stopped going round and round, and the little girl who rode the unicorn still stood next to her.
It wasn't too soon for the little girl who rode the zebra. She jumped right down off the platform and into the dust and noise, and the parents and children who stood all around. The little unicorn girl jumped right off after her, loving the pink dust that poofed up under her feet when she landed.
They both stood there looking at each other for a moment, and the little zebra girl shyly said to the unicorn girl, "Want to go again?"