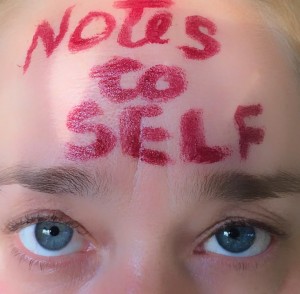 NOTES TO SELF
by Diana Lang (with friends)
Welcome to my NOTES TO SELF page. I invite you to share your images and stories with us and hope you SHARE our page with like-hearted others.
I am a spiritual teacher and counselor in Los Angeles since 1980. I first began as a yoga and meditation teacher. It was during the early years of teaching, and especially privately, that I began to see "that you couldn't change your body until you changed your mind," and out of this, slowly but surely my counseling practice emerged.
Over these many years of deep and profound conversation, I have had the privilege of standing as guide and witness to miracles. These Notes came out of those conversations. They represent the nature of the soul in relation to each person during a particular phase of their healing journey.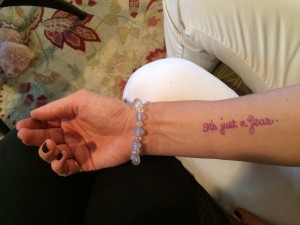 At first they were written on notepads that I called prescriptions and I would give them to my clients to keep with them. Some of these little notes, people still carry in their wallets and pockets years and years later. One day during a session, it came to me to write directly on the body, where one of my clients had been "cutting." I thought to myself, "I'll write these right on her leg where she cuts. Maybe she won't cut through them." She didn't. And it became so powerful in her process, that I began to use it on everyone.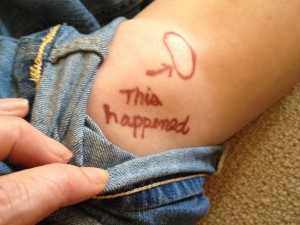 We called them temporary tattoos. I made them with Sharpies. The images would last anywhere from one day to a whole week. We would laugh at which ones would disappear the day I wrote them. Others would "stick" for many days and we took that as an important sign. Some people, turned them into permanent tattoos!
These little writings ended up being so powerful for all of us. There is something mystical about the ritual of physically writing on someone's body. For me, I was functioning as a soul scribe, making an indelible impression that I wanted to "sink in." For them, it was an embodiment of our conversation. They would feel the love, the care, and the spiritual intention that went into it, as I would slowly and deliberately write the words on their body.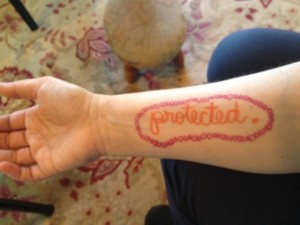 The brave men and women are sharing a little of their path in the hopes that maybe it will give someone else out there some inspiration along theirs. It takes a lot of courage to do this kind of deep, personal work. I am still in awe and admiration of the courage of these individuals as they walked the path to real healing. It truly is a road less traveled.
And I am humbled and grateful to be a guide and witness to their process. The backstories here would take your breath away. From self-esteem issues to brutal and repeated violence. Suffice it to say that these photographs represent hours upon hours of deep personal work.
There are almost a thousand photos and all of them were taken right in the moment, arriving out of a long conversation. They were taken spontaneously and live, without special lighting, on my iPhone.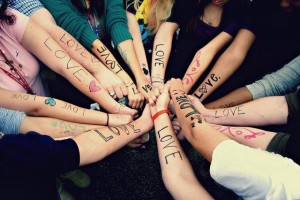 As a spiritual counselor, I am always guiding the personality back into relationship with the soul. And I can tell you, for sure, that no matter what our backgrounds might be, we are redeemable, healable, lovable and holy. As a healer and a teacher, I stand in that place with all my heart. What you see here are the simple phrases that represent an entire recalibration of the psychology of the personality in alignment with the soul. Real healings happening with real people.
in love and light,
Diana Lang